As I watched the clock change from 11:59pm to 12:00am this morning, my age followed suit; a wrinkle in my brain, a crease in my forehead, and a grey in my midst of my strawberry blonde locks, appeared to join the party. Thanks to Taylor Swift, I've dreaded turning twenty-two, up until today actually came along. I was not looking forward to hearing that song all day; but, thankfully, only three people have mentioned it so far.
What a relief.
Contrary to Taylor's beliefs, twenty-two is not a milestone age, like eighteen or twenty-five. I am part of a crowd that stands at an odd stage of life; all of my friends are graduating college, most of which are either moving onto a job in the workforce, or even upgrading their life contracts to grad school. Since I left Iona following my sophomore year, I have been trying my hardest to get back into that groove of going back to school as soon as humanly possible.
Almost a full two years later, I am still here, at my job in CHS. By the looks of it, the money I owed Iona should be paid off by the end of 2017, so you bet your ass I will be looking into schools again very soon. I am beyond excited to restart that journey, and finally move along with this life I've felt so stuck in for the last couple of years.
I am also excited to see where I can take myself this year. The very first person I texted when my age changed was none other than the one person who shared the same birthday as me: my friend and ex-RA, Tyler. Since we first found out that we share our birthday, he has consistently been the first person I text on this day for two reasons; one, being the obvious, and the other being that he just gets me. I still have yet to meet another person who shares as many common interests with me as he does, I've definitely had more heart-to-hearts with him than just about anybody else, and I trust him immensely. He is a great person all around, but I especially love his pep talks. He is basically the go-to person if I ever need a real pick-me-up, which is what I totally needed last night.
"This is gonna be our best year around the sun," is exactly what he texted me this morning. I obviously know this because I was looking back at my phone while typing it out on here. If there is one thing I have a ridiculous amount of, it's hope. And every ounce of my being hopes that he's right.
After that, I wanted to start my year off the right way—the way Tyler and I would have if we were together at Iona, or if I was with my mom, or best friend, Amanda. The very first thing I wanted to do as a twenty-two year old was watch a movie. And I didn't want to watch just any movie, but one of my all-time favorites: Dirty Dancing.
I know that sounds horrible for some people, but guess what? I seemed to have lost every fuck I used to possess. That movie is a straight up classic, and I don't care about your opinion.
I only care about Swayze and the power of dance.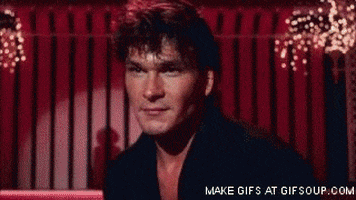 But I did do this for a reason other than pure entertainment. I don't like to watch my favorite movies often, and for good reason.
Short story: So when Frozen first came out, I was in my freshman year of college. I went with a couple friends to see it in the movie theatre down the block from the school about a week after it was released, and we fell in love at first sight. As soon as it ended, we rushed back to the dorms to find it already on a site, and watched it again. And again. Many times. I watched that movie so repetitively in such a short period of time, that I can barely watch it anymore. I have to really be in the mood in order to watch it. (Side note: I kind of started to do the same thing with Moana, but the PTSD of the Frozen frenzy came in like a wrecking ball, I slowed that boat down real quick.)
Also, note that Dirty Dancing came out in September 1987. (That's a good seven and a half years before I was even born.) So with the Frozen situation in consideration, you can only imagine how many times I've watched Johnny lift Baby above his head. I know that movie forwards, backwards, verbatim—it's actually ridiculous.
But I enjoyed every second of it as if I was watching it for the first time.
And can I just mention for a second how much I love the soundtrack? It's been more than twelve hours and my noggin is still jamming out to the oldies. I feel like the older I get, the more I appreciate every detail I find about these movies that I've loved for so long. Like, wow. I am just so grateful for it.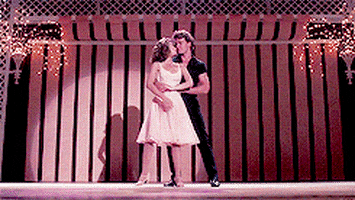 Speaking of which, another thing (person) I am super grateful for is Sara Bareilles. In a little over two weeks, I will [finally] be seeing Waitress—which I've been obsessed with for about a year and a half—and I AM SO HYPE. I purchased the tickets in February as a birthday present for Caitlyn and myself, and now it is so close that I can barely believe it! AND SARA'S GOING TO BE PLAYING JENNA, which is a dream come true for her, but also for me, because I have loved her music for basically half of my life.
(Now, if only Hamilton could suddenly become available to me…)
(LIN, I'M LOOKING AT YOU.)
I also have Amanda's bridal shower, bachelorette party, and wedding to look forward to, in which the foremost is keeping me busy. I'm still having fun as designated maid of honor, but I know when the day comes I'll be a wreck, because that's when my occasional perfectionist personality trait will pop in and destroy everything. Everything being my patience and ability to work well with others. But until then, I'm going to enjoy the experience for the next two months.
Actually, now that I think about it, I do have a couple more things planned for this year. I might be going to Pennsylvania in June, where a paper lantern festival takes place. There, I'm hoping to recreate "I See the Light" from Tangled—only mentally though, seeing as how I have zero musical talent. I am going to be seeing Luke Bryan in August, and hopefully travelling to Florida to see my sister the very next day. I also plan to see Anastasia in either September or October (I'm not sure yet). So at least I'll be a little busy for the upcoming months.
I also want to throw it out there how badly I still want to go camping.
…and see the Ugliest people I know [because my heart misses them a lot].
Twenty-one was a rocky year, but hopefully twenty-two will treat me better. I definitely think I started it in the best way possible, so let's see how the rest of it plays out. I know it's what I make of it, and let me tell you how I made absolutely nothing of twenty-one. That seriously has to change, and I really need to get myself into gear. I plan to actually do things for myself this year. I am going to take Tyler's words in deep consideration, and try to live it out to expectation. (But don't think that I won't watch many movies along the way.)
I'm going to have the time of my life, and I am going to make this my best year around the sun.
Otherwise—when in doubt, dance it out.